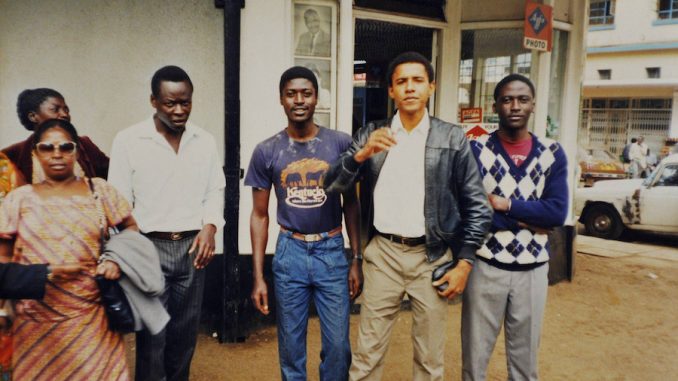 Barack Obama's half-brother, Samson Obama, was refused entry to the UK after being accused of an attempted sex attack on a 13-year-old girl in Berkshire in 2008, it has been revealed.
It has also been revealed that early in Barack Obama's first term in office he "pulled strings" to get his half-brother a visa for the United States, despite the fact that Samson Obama, a Kenyan national, was not allowed in the United Kingdom due to his child sex crime.
The news was reported in the British press, however as Barack Obama's first term in office began the scandal was completely suppressed by the U.S. mainstream media.
The News of the World, a Murdoch-owned Sunday newspaper that closed in 2011, reported on Samson Obama's child sex assault, reporting that Obama's half-brother is on the sex offender register in the United Kingdom.
"Eagle-eyed immigration officials at East Midlands Airport, using the latest biometric tests, discovered he [Samson Obama] was linked to an incident here last November. The hi-tech database revealed that Samson – who manages a mobile phone shop just outside Nairobi – was the same man arrested by British police after he approached a group of young girls, including a 13 year-old, and allegedly tried to sexually assault one of them," according to News of the World.
"He then followed them into a cafe where he became aggressive and was asked to leave by the owner. That's when police were called and Samson was arrested", the Rupert Murdoch-owned outlet continued.
Fake ID
After being arrested over the attempted child sex attack, Samson Obama provided Berkshire police with false ID, attempting to protect the Obama name from the scandal.
"He supplied officers with his mother's address in Bracknell but gave them a false ID, claiming to be Henry Aloo, believed to be a genuine asylum seeker. Mum Kezia [Barack Obama's step-mother], 67, has lived in Bracknell for six years. She married the US president's father Barack Obama Snr in Kenya when she was a teenager. 
[Thousands Of Pedophiles Locked Up Under President Trump Amid Media Blackout]
Following Samson's arrest he was fingerprinted and deported from the country. However, his details were stored on the Home Office's database of prints and biometric details. And that's what finally pinpointed Samson's link to the world's most powerful leader – as he tried to slip back into Britain to visit relatives en route to the swearing-in ceremony in Washington D.C.
"We will oppose the entry of individuals where we believe their presence is not conducive to the public good," a UK Border patrol spokesman told the Express.
Extremely sensitive 
The White House was informed and a Home Office source told the News of the World: "This was obviously an extremely sensitive issue when it was flashed up by the database."
So sensitive, in fact, that it went unreported by all mainstream news sources in the United States.
Due to the mainstream media's determination to suppress the story of the Obama sibling's child sex assault, Samson was allowed to enter the United States.
And in 2017 it appears nothing has changed. The mainstream media is still covering up for elite pedophiles and their enablers.
Federal authorities have locked up more than 1,500 people on child trafficking and pedophilia charges since President Trump assumed office, however the huge increase in numbers on recent years is being completely ignored by mainstream media.
According to the FBI there were less than 400 sex trafficking-related arrests made in the entirety of 2014, proving that President Trump is serious about using "the full force and weight" of the U.S. government to break up child sex trafficking rings and lock up sexual predators.
"This should be one of the biggest stories in the national news. Instead, the mainstream media has barely, if at all, covered any of these mass pedophile arrests. This begs the question – why?" Liz Crokin wrote for Townhall.com.
In a press conference from the White House on Feb. 23, Trump addressed how human trafficking is a "dire problem" domestically and internationally and set his sights on the elite pedophile ring that has established itself in Washington D.C., spreading a toxic agenda and destabilizing our democracy.
"Dedicated men and women across the federal government have focused on this for some time as you know – it's been much more focused over the last four weeks," he said.
However the press conference registered "barely a blip in the mainstream media and the massive arrests have been almost completely ignored by the MSM altogether," Crokin wrote.
Posted by: Mike Admin
Mike Volin
570-284-7477