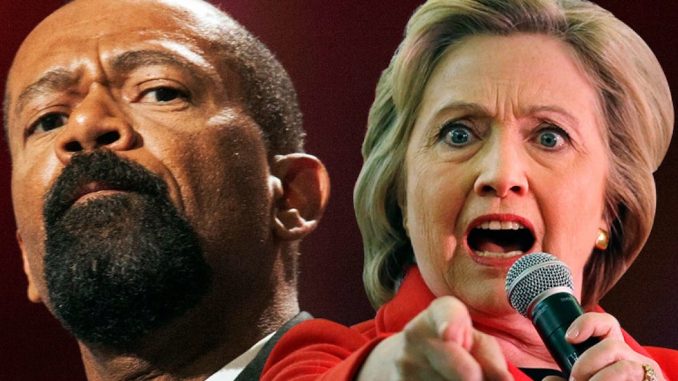 http://americanewscenter.com/2017/05/10/sheriff-clarke-vows-to-arrest-hillary-clinton/
Sheriff Clarke has vowed to arrest Hillary Clinton on the spot if Trump makes him the next FBI Director.
President Trump's favorite sheriff tweeted the promise late on Tuesday, after James Comey was fired as FBI Director, sparking frenzied speculation regarding who will be tapped to fill the role.
That's one hell of a way to throw your hat into the ring.
Sheriff Clarke joins Congressman Trey Gowdy as a popular favorite to replace the disgraced James Comey, as Twitter lit up on Tuesday with endorsements from the public for both candidates.
Should Trump choose either candidate, Hillary Clinton will be guaranteed restless nights as the long-awaited prosecution into her crimes gets taken seriously by an FBI Director concerned with law, order and justice – rather than crony corruption.
As Alexander Hamilton said, "A contempt of the laws is the high road to anarchy," and neither Clarke nor Gowdy are fans of anarchy.
The fact is, Hillary Clinton's email scandal and the Clinton Foundation scandal are back in the news, as they are likely to be for years to come. At his confirmation hearing, Attorney General Jeff Sessions said he would recuse himself from all investigations involving the Clintons.
And though President Donald Trump said that his preference was for no further investigation of Hillary Clinton or the Clinton Foundation, this does not mean that a prosecution is not in the works.
Washington Times reports: A decision (which does not seem to have been made yet) not to continue any investigation raises at least three concerns:
1). Deciding whether to prosecute someone isn't normally the president's decision to make. It's the job of "the system."
"The system" may sound amorphous, but in fact "the system" is what we call "the rule of law." That rule is not just an arcane concept that interests lawyers and public policy mavens. The rule of law is probably the single most important governing concept we have — far more important than democracy. The rule of law elevates the weakest citizen to the level of the most powerful.
2) Dropping the case raises the question of fairness.
Fairness may be an elusive concept; even so, we tend to know it's missing when we don't see it. It is true that it's not always possible to be fair. Sometime it's necessary to be just. But in this case, there are people who have done far less than what Mrs. Clinton has already been shown to have done and who have been punished for it. Why should they have to pay a price if she does not? The response that life is not fair does not entirely satisfy.
3) Danger lurks in curtailing the investigation.
Who knows what evils the Clinton Foundation engaged in? The answer is: Many people know — the many people who have been investigating it. They know things. And it is almost inconceivable that there will be no leaks. Those leaks would embarrass Donald Trump for letting Mrs. Clinton escape, even as they would embarrass Mrs. Clinton — always assuming it's possible to embarrass a Clinton.
The fact is, the leading candidates for FBI Director are all hell bent on prosecuting Hillary Clinton and bringing her and her cronies to justice.
It's beer and popcorn time.
Credit to Americannewscenter.com
Posted by Mike Admin
Mike Volin
570 284 7477
Mike@wheresobamasbirthcertificate.com