Wednesday, February 22, 2012
ObamaRelease YourRecordson 6:30 PM

WND TV to live-stream Arpaio eligibility reportMarch 1 news conference to announce findings of 1st official probeWorld Net Daily

PHOENIX, Ariz. – When Arizona Sheriff Joe Arpaio announces the findings of the first official law-enforcement investigation into the questions surrounding Barack Obama's constitutional eligibility for office at a news conference Thursday, March 1, WND TV will be there to provide exclusive live-streaming, founder and editor Joseph Farah announced today.

In addition, WND will make available to the public, the same day by e-mail, the official report distributed to media by Arpaio's "Cold Case Posse." Those interested in receiving the report can sign up for the free service between now and the March 1 press conference.

"When I took this mission on, I took it on to possibly be able to clear the president," Arpaio said during a speech in Maricopa County. "I was doing him a favor. We'll see what happens."

Arpaio has kept the results of the investigation close to the vest, but suggested in a speech Tuesday that new information would be revealed.

"I don't have press conferences just to get my name on television. When I have a press conference, I talk about something," Arpaio said. "I had about 250 tea party people, to sign a petition . . . came to me and asked their sheriff to investigate Obama and the birth certificate. So what should I do? Throw it in the waste basket and forget it like everybody else has done?"

The comments drew applause from the crowd, which was assembled to hear both Arpaio and presidential candidate Rick Santorum.

SIGN UP NOW TO GET FREE COPY OF ARPAIO REPORT AS SOON AS IT IS DISTRIBUTED TO PRESS MARCH 1.


WND EXCLUSIVE
Sheriff Joe sets D-Day on Obama's eligibility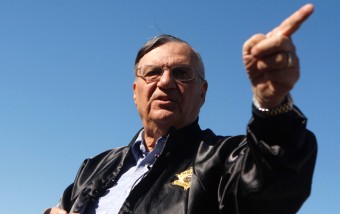 Sheriff Joe ArpaioSheriff Joe Arpaio
Following a Georgia judge's ruling that Barack Obama is eligible to be on the state's 2012 Democratic Party presidential ballot, the front lines in the continuing eligibility battle are being fought in Arizona.
Maricopa County Sheriff Joe Arpaio told WND today his office has scheduled a news conference in Phoenix for March 1 to release findings of the Cold Case Posse that has been investigating Barack Obama's birth certificate and eligibility to be president.
Ads by Google
Can't Sell Your TimeshareTired of Paying Upfront Fees? Learn The Truth About Selling Timeshares GiveBackTimeshare.com/Timeshare
Bail Bonds AZ480-893-2245 Maricopa County Bail Bonds www.randolphbailbonds.com
Arpaio declined to release to WND any of the posse's conclusions in advance of the press conference, although he is on record saying the findings may be "shocking" to many.
Discover what the Constitution's reference to "natural born citizen" means and whether Barack Obama qualifies, in the ebook version of "Where's the REAL Birth Certificate?"
In a separate matter, Arpaio told WND that a group of Department of Justice officials from Washington, D.C., began meeting with officials of the Maricopa County Sheriff's Office regarding the DOJ's allegation of systematic violations of the federal civil rights of Hispanics.
If the negotiations fail, the DOJ has threatened to take Arpaio and the MCSO to federal court, setting up an epic political battle just as Arpaio prepares to issue the results of the Cold Case Posse's investigation.
Arpaio investigating Obama since September
Arpaio's decision to investigate Obama follows a meeting held in his office Aug. 17 with tea party representatives from Surprise, Ariz., who presented a petition signed by more than 250 Maricopa County residents. The petitioners expressed concern that their voting rights could be irreparably compromised if Obama uses a forged birth certificate to be placed on the 2012 presidential ballot in Arizona or otherwise is found to be ineligible.
WND previously reported that the tea party letter formally stated the following charge: "The Surprise Tea Party is concerned that no law enforcement agency or other duly constituted government agency has conducted an investigation into the Obama birth certificate to determine if it is in fact an authentic copy of 1961 birth records on file for Barack Obama at the Hawaii Department of Health in Honolulu, or whether it, or they are forgeries."
The posse, constituted under the authority of Arpaio's office, consists of three former law enforcement officers and two retired attorneys with law enforcement experience. It has been examining evidence since September concerning Obama's eligibility to be president under Article 2, Section 1 of the Constitution.
The Cold Case Posse conducting the investigation has been described as a "posse within the posse," consisting of volunteers with professional experience in conducting investigations. It includes individuals chosen because of their professional backgrounds in law enforcement, lawyers who have participated in criminal or civil cases and individuals with specialized skills in fields ranging from accounting to conducting criminal forensic examination.
The posse was constituted as a 501(c)3 organization, designed to cost the people of Maricopa County nothing, while enabling people from around the country to contribute to its mission.
http://www.wnd.com/2012/02/d-day-set-for-sheriff-joe-on-obama-eligibility/
January 27th, 2012
I have emphasized the word "little" because the truth of the law on this issue is very simple, folks. So simple that the mystery is deciphered by application of one of the most clear, concise and undeniable rules of law; the code of statutory construction governs, and therefore, "natural born Citizen" must require something more than being born in the United States.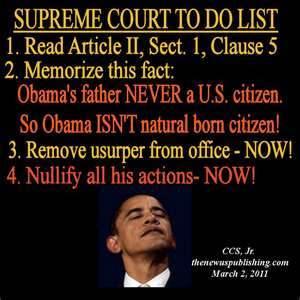 Let me put it to you in appropriately simple language:
Clause A = "Only a natural born Citizen may be President."
Clause B = "Anyone born in the United States is a Citizen."
(While these two clauses reflect Article 2, Section 1, and the 14th Amendment, I shall refer to them as "Clause A" and "Clause B" for now.)
The code of statutory construction is learned by every student in law school, and every practicing attorney has confronted it. Every judge is required to apply the rule equally to all statutes, and the Constitution. There is no wiggle room at all. The rule states that when a court examines two clauses, unless Congress has made it clear that one clause repeals the other, the court must observe a separate legal effect for each. More specifically, regardless of the chronology of enactment, the general clause can never govern the specific.
Clause B is a general rule of citizenship, which states that all persons born in the country are members of the nation.
Clause A is a specific clause that says only those members of the nation who are "natural born" may be President.
According to the rule of statutory construction, the court must determine that Clause A requires something more than Clause B.
It's truly that simple. This is not some crazy conspiracy theory. It's not controversial. This is not rocket science. Every single attorney reading this right now knows, beyond any shadow of a doubt, that I have accurately explained the rule of statutory construction to you. Any attorney who denies this rule, is lying. The rule cannot be denied. And its simplicity cannot be ignored.
Now let's see what the United States Supreme Court has to say about the rule:
"Where there is no clear intention otherwise, a specific statute will not be controlled or nullified by a general one, regardless of the priority of enactment. See, e. g., Bulova Watch Co. v. United States, 365 U.S. 753, 758 (1961); Rodgers v. United States, 185 U.S. 83, 87 -89 (1902).
The courts are not at liberty to pick and choose among congressional enactments, and when two statutes are capable of co-existence, it is the duty of the courts, absent a clearly expressed congressional intention to the contrary, to regard each as effective. "When there are two acts upon the same subject, the rule is to give effect to both if possible . . . The intention of the legislature to repeal `must be clear and manifest.' " United States v. Borden Co., 308 U.S. 188, 198 (1939)." Morton v. Mancari, 417 U.S. 535, 550-551 (1974).
This is what I mean by no wiggle room – "The courts are not at liberty to pick and choose among congressional enactments…" Any court construing Clause A is not at liberty to assume that Congress intended to put the words "natural born" into Clause B. The general does not govern the specific, and the rule requires the court to "give effect to both if possible".
Is it possible to give separate effect to both Clause A and Clause B?
Yes. The Constitution tells us that any Citizen can be a Senator, or Representative, but that to be President one must be a "natural born Citizen". The Constitution specifically assigns different civic statuses to "Citizens" and "natural born Citizens". Therefore, not only is it possible to give separate effect to both Clause A and Clause B, it is absolutely required by law, and no court has the ability to circumvent the rule.
Had the original framers intended for any "born Citizen" to be eligible to the office of President, they would not have included the word "natural" in the clause. Additionally, had the framers of the 14th Amendment intended to declare that every person born in the country was a "natural born Citizen", then the 14th Amendment would contain clear and manifest language to that effect. But it doesn't. Therefore, each clause must be given separate force and effect.
Deputy Chief Judge Malihi explained the rule of statutory construction in his denial of candidate Obama's Motion to Dismiss, wherein his opinion of the Court stated:
"Statutory provisions must be read as they are written, and this Court finds that the cases cited by Defendant are not controlling. When the Court construes a constitutional or statutory provision, the 'first step . . . is to examine the plain statutory language.' Morrison v. Claborn, 294 Ga. App. 508, 512 (2008). 'Where the language of a statute is plain and unambiguous, judicial construction is not only unnecessary but forbidden. In the absence of words of limitation, words in a statute should be given their ordinary and everyday meaning.' Six Flags Over Ga. v. Kull, 276 Ga. 210, 211 (2003) (citations and quotation marks omitted). Because there is no other 'natural and reasonable construction' of the statutory language, this Court is 'not authorized either to read into or to read out that which would add to or change its meaning.' Blum v. Schrader, 281 Ga. 238, 240 (2006) (quotation marks omitted)." Order On Motion To Dismiss, Deputy Chief
Judge Malihi, Jan. 3, 2012, (Emphasis added.)
Therefore, the term "natural born" must be considered as requiring something more than simple birth in the country. And Judge Malihi states, quite clearly, in his ruling above, that the Court "is not authorized to read into or to read out that which would add to or change its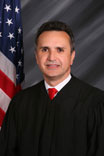 Judge Malihi
meaning." The rule is the same for election statutes in Georgia as it is for the Constitution of the United States.
The rule of statutory construction, with regard to the Constitution, was best stated by Chief Justice Marshall in Marbury v. Madison, 5 U.S. 137 (1803):
"It cannot be presumed that any clause in the constitution is intended to be without effect; and therefore such construction is inadmissible, unless the words require it." (Emphasis added.)
If the 14th Amendment was held to declare that all persons born in the country, and subject to the jurisdiction thereof, were natural-born citizens, then the "natural born Citizen" clause would be rendered inoperative. It would be superfluous. And its specific provision would, therefore, be governed by the general provision of the 14th Amendment. The United States Supreme Court has determined that it is inadmissible to even make that argument.
Any genuine construction of the "natural born Citizen" clause must begin from the starting point that it requires something more than citizenship by virtue of being born on U.S. soil. Minor v. Happersett, 88 U.S. 162 (1874), tells you exactly what that something is; citizen parents.
Leo Donofrio, Esq.
No College Transcripts. This Is The Man Thats Hiding Something.
January 19th, 2012
Tuesday, January 17, 2012
Ed Henry to White House: What Is The Reason For
Obama Not Releasing College Transcripts?
ObamaRelease YourRecords on 3:37 PM
No College Transcripts
WHY?
No Medical Records
WHY?
Used Many Aliases
WHY?
Using A Invalid Social Security Number
WHY?
No One Remembers Him From Him Past
WHY?
Who Is This Man